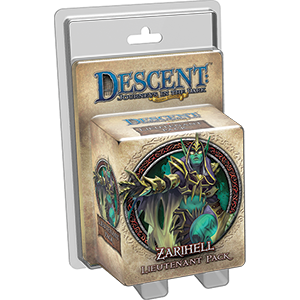 The Zarihell Lieutenant Pack is a Lieutenant Pack featuring Zarihell from the expansion Mists of Bilehall.
It was first announced on 1. August 2015[1], and released on 11. January 2016[2].
The Heartless Temptress, The Dead Serve Her[1]
Zarihell is an elf, old beyond knowing, with a powerful command over the spirits of the dead. While Waiqar suffers her to exist in his domain, she serves none other than herself – though you may persuade her to join your cause in another campaign across Terrinoth.
"Zarihell is forever eager to demonstrate her extraordinary craft."
This lieutenant pack includes the following:
1 Plastic Figure
1 Rulesheet
2 Agent Cards
10 Plot Cards
16 Threat & Fortune Tokens
The plot deck for the Zarihell Lieutenant Pack is called Eternal Agony[1]. The deck contains the following cards:
Community content is available under
CC-BY-SA
unless otherwise noted.